Musician Francis Moore-Colyer talks about some of the ways technology has helped us through lockdown.
"I find that making music can be light relief from 'work' – household chores, schoolwork, shopping for groceries, etc.
Taking part in music can be a release from these mundane or stressful things, because it sets off lots of sparks in our brain — a very different combination of sparks to normal. Musical activity, or even just listening to a song, can refresh our mind and centre us for whatever's next — it can be like a 'detox' for the mind.
Technology has stepped up to make lots of musical activity possible during lockdown; it has been a really useful tool!
Streaming services and concerts have given us access to music from home. Listening to music can help us to work through our emotions, unleash our imagination, and even escape to a dream world for a bit. You may find you need this even more during this time.
Remember, your friends and family are sharing this forced 'home time' experience, so send them videos of you playing music and get them to send you theirs. You could always call them to discuss your favourite music or host a listening party. Or, if you are desperate to play together, get together on Zoom and have one of you muted.
Not only have we been able to see each other on video calls and laugh together (often about how our long hair has become), but we've also been able to share ideas. I've particularly enjoyed sharing ideas with other teachers about how to help young people with music activities.
One of the many websites I've been using is Chrome Music Lab.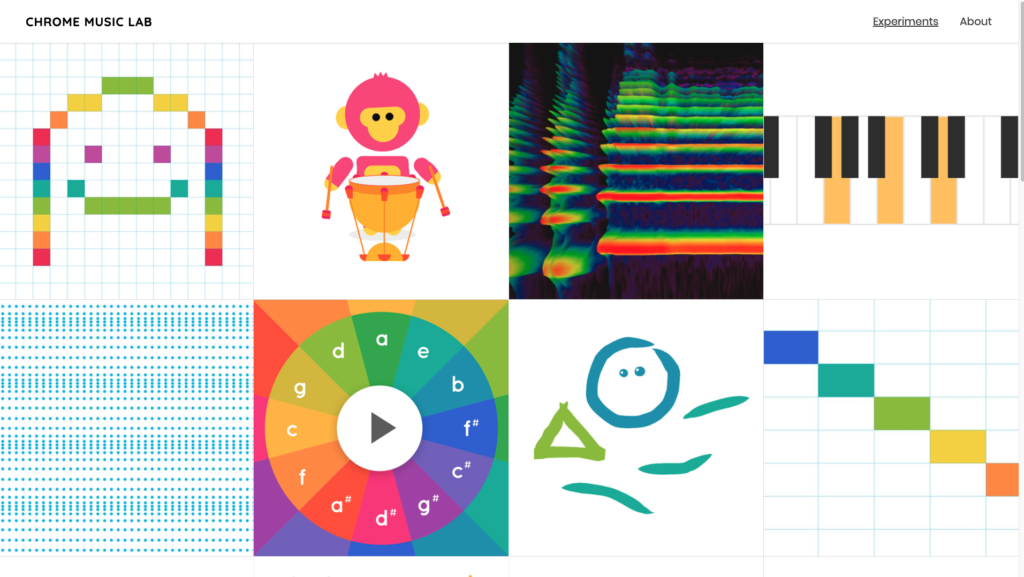 The Chrome Music Lab helps us to learn how we can build music from the inside, out. It shows us the ingredients of music and helps us build it up from there – a great way to approach learning anything! Best of all, you have the chance to put some music together yourself. I love it when games give you the space and time to explore independently. Music is all about creating something of your own and this site shows us a way to do that.
We've had to get creative over Zoom and other apps, as they make us play separately (the internet doesn't let us play together as we normally might). This means we are learning great lessons in turn-taking. We play 'your turn, my turn', or 'you say, I say'. This exercise highlights the communication element in music. Music is, after all, a language.
Phew! So much to do. So much to create. I am very thankful that we live in a technological age that makes all this possible.
Whatever you do, enjoy."
You can find lots of videos helping you to use apps and music technology over on the Drake Music Scotland website: https://drakemusicscotland.org/resources/ Take a look at the 'Tutorial' and 'Training' pages in particular.