Discover Figurenotes – The Complete Package
FIGURENOTES – THE ACCESSIBLE AND INTUITIVE WAY TO HELP THOSE WHO LOVE MUSIC TEACH AND LEARN. 
By simply matching colours and symbols to notes, anyone can play, compose and perform.
If you can match, you can play!
Originally a music-learning tool developed in Finland for people with learning disabilities, Figurenotes is now used worldwide. Extensively developed by Drake Music Scotland, Figurenotes is now a subscription-based online learning and software platform, with additional access to its own community resource hub, to support musicians, teachers, and practitioners.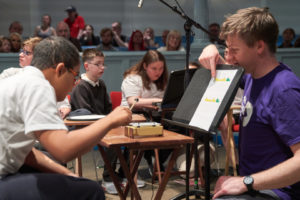 FIGURENOTES SOFTWARE – NEW AND IMPROVED!



Packed with dynamic learning features, available on any device or screenreader with access to the internet, Figurenotes is available by subscription, meaning you'll never have to buy new software or be out of date or support!
You'll be able to create, access and store your own Figurenotes scores as well as import and use existing tunes, simply by logging in to your account and accessing via any internet-enabled device.
Figurenotes latest features include:
Compound time signatures
Change time signature or tempo mid-piece
Computer keyboard note input
Fix note-length input to make writing a breeze
Screen-reader compatibility
Text boxes and performance directions
£69.99/year
Thanks to our funders ScottishPower Foundation who made this possible.
FIGURENOTES ACCESSIBLE MUSIC (FAM) HUB – NEW FOR 2022
Join the Figurenotes global music teaching community and access a ton of inspiring resources from any of your devices, as well as uploading your own. The online FAM Hub includes tunes, tutorials, worksheets, plugins, training, lesson plans and more, including featured material from the Figurenotes team.
Choose from two subscription options:
Standard:
Never be short of ideas and resource support again! Benefit from unlimited downloads of resources from the library and enjoy contributing by uploading your own.
£44.99/year or £3.99/month
Enhanced:
Specially created to be a valuable tool for music teachers, enhanced FAM Hub subscription supports effective delivery to whole classes and more learners of all abilities with ease.
£59.99/year or £5.99/month
With thanks to Creative Informatics who made this possible.
Creative Informatics supports creative organisations in Edinburgh and South East Scotland to do inspiring things with data. The programme is delivered by the University of Edinburgh in partnership with Edinburgh Napier University, Creative Edinburgh and CodeBase.
FIGURENOTES SHOP
For the rest of your Figurenotes needs, check out our online shop.
Here you will find all the physical products you will need .
Grab essential items such as stickers, or book your place on one of our award-winning training days.
We have you covered:
Stickers
Magnets
Tune Packs
Book Training