If you're looking for fun, interactive training on accessible music techniques, get your skates on! There are only 3 places left on our online course taking place in November 2023.
Figurenotes: Developing Your Practice
Come and join us for award-winning CPD for music practitioners and educators. Do you want your pupils to pick up rhythm quickly, feel free to be creative, and work well in groups?
Enjoy 3 interactive group sessions, building your skills in Figurenotes and accessible music practices. Consolidate on your work with homework activities between sessions. Follow-up with a 1:1 session with course leaders to answer any further questions you have, get advice on specific aspects of your work, or for more general queries.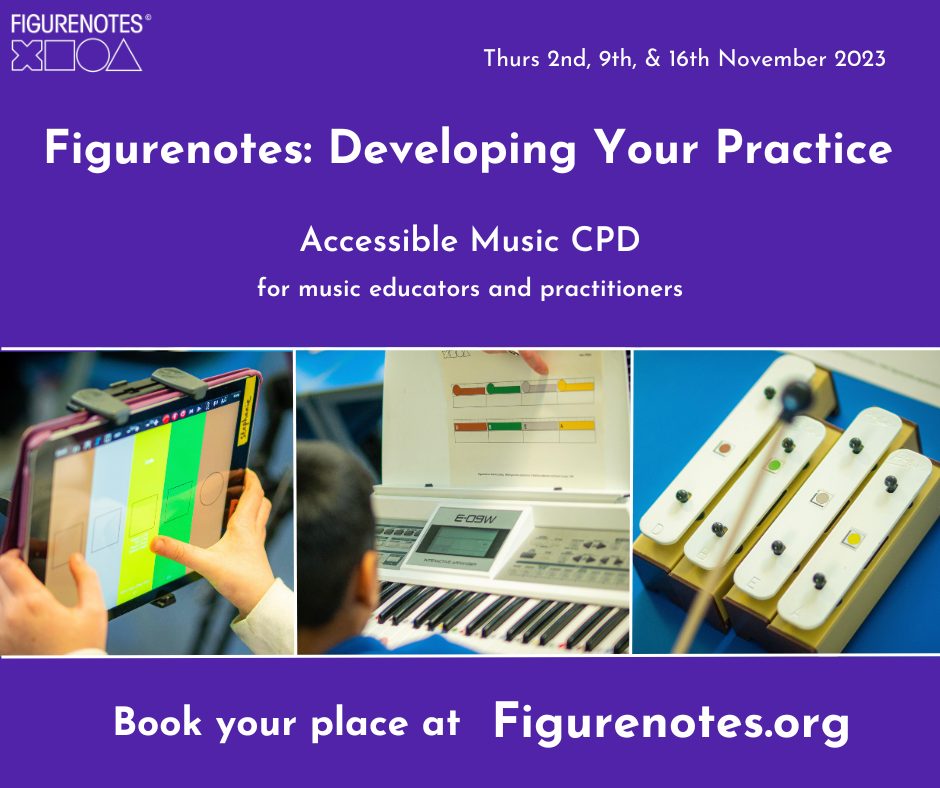 You'll be guided through Figurenotes, from how it works, to its many applications. We will focus each session on some of the fundamentals of music-making:
Rhythm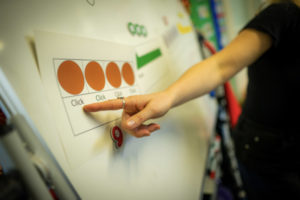 All musicians need to develop a solid sense of pulse. Through rhythm games and challenges, learn how to make learning rhythm fun and engaging. Figurenotes notation shows rhythm in a very logical way, which then transitions easily to standard notation.
Creative Composition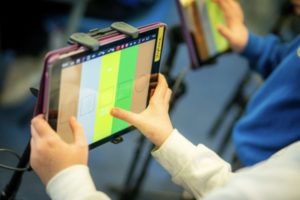 We'll explore a range of composition tools you can use in different settings. You'll learn how to build and adapt an idea in an accessible way, enabling success across a range of abilities and additional support needs.
Ensembles and Differentiation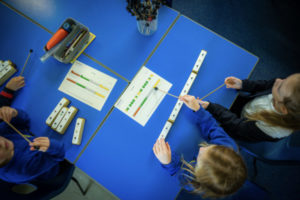 Learn how to use Figurenotes on almost any instrument in a variety of settings. From one to one learning, full class activities, and varying ensembles, you'll be able to get your pupils playing together quickly and easily.
1:1 Follow-up Session
This is an opportunity for you to work 1:1 with course leaders after the main sessions have been completed. The content of these sessions is entirely up to you. We can work with you on resources, help develop ideas, troubleshoot, or help with specific questions you may have.
Here's what some of our recent trainees had to say.
What are the details?
Thursdays 2nd, 9th, & 16th November 2023. 1pm – 3pm UK time. Click here to check your timezone.
Our online training programme consists of three interactive Zoom sessions, plus a 1:1 session with course leaders to focus entirely on you and your work. You can attend from anywhere with an internet connection. You'll also receive a discount code for Figurenotes resources, which you can use on anything from stickers to a software subscription.
Each interactive session lasts 2 hours. There will be opportunities to meet and collaborate with fellow music educators, to discuss your student's specific needs, and workshop relevant solutions that you can take away with you. Alongside these interactive sessions, you'll be guided through activities to help you apply Figurenotes to your own working practice.
The groups will be kept small to allow full participation from everyone, ensuring you get valuable feedback from your peers and the course leaders. You should finish this training with resources you can use straight away and a good idea of how to progress your work further.
How do I book?
Complete the booking form, then pay for your place via our online shop. You can either pay by PayPal, credit/debit card, or request an invoice.