Emily Carr-Martin from Hear My Music has continued to provide high quality music provision during lockdown. Here she gives us an insight into how they moved sessions online, as well as some of the unexpected benefits of working in this way.
I'm Emily and I'm the creative director of Hear My Music, a charity enabling people with complex needs and/or autism to express themselves as individuals through inclusive participant-led music making. In short, pre-pandemic, this meant that I spent most of my time making/teaching/facilitating music with remarkable people in schools, community centres, and the green room of the Glad Café where we held our classes. In the current world I now do this from my laptop screen via Zoom or Teams with the company of my wonderful office companion, Isla the spaniel.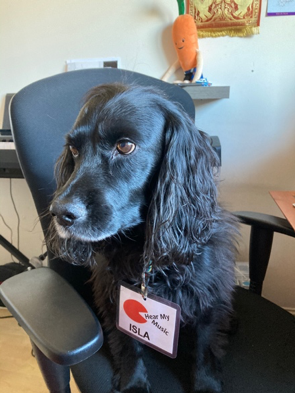 I have used Figurenotes in my work for a number of years and love it! As a dyslexic musician, something in the logic of the visual system immediately clicked with me and the colours are so ingrained with pitch in my brain that I can get very twitchy when looking at a solid block of colour and hearing music that is not in the corresponding key.
I love that moment when you introduce a child to a Figurenotes score on a piano or chime bars and before the adult in the room has finished drawing breath to ask how the system works, the child has played their first full tune! No words required. This suits both me and the majority of people I work with!
Hear My Music runs a project called Glad Spectrum Music (GSM), an after school group and individual music classes for autistic children and young people. It is this project that this blog post will focus on with a particular emphasis on how we have moved the project to remote delivery and our continued use of Figurenotes within this.
I'm sure everyone remembers the run up to the lockdown in March vividly. I spent a surreal week cancelling every project we run and then swiftly working out how to run remote music sessions for the following week. GSM took one week off, the week before the schools closed, and the following week we were delivering our classes online, this was perhaps quicker than was sensible, however the craving for routine and normality was tangible and it was that that I reacted to.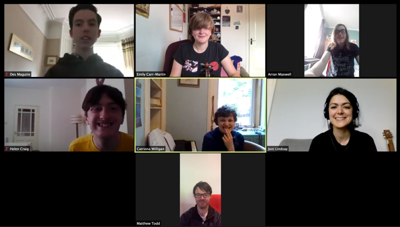 The setup/preparation for these sessions wasn't huge. Anyone who didn't have a keyboard in their house was provided with one to borrow, with Figurenotes stickers. We sent out many 'fingers' templates (available on the Resource Base under 'General' or in the free bundle), and huge amounts of music for home printing. When presented with my first bit of black and white music from the other side of the screen (no colour printer!) I learnt that sometimes posting music was the best option.
I discovered that there are popular coloured keyboard stickers with notes drawn on them and letter names that don't correspond to Figurenotes colours, a lot of information on one sticker that maybe a sibling was using on a shared keyboard. Add a Figurenotes 'fingers' template to this and it made my head hurt to look at it! Fortunately, the same sticker company also makes a black and white version!
We quickly learnt about the limitations of group music making on the internet. We began to learn what works and what you have to accept as a no-go. Playing as a group, that feeling of absolute 'togetherness', the sound and vibrations of instruments working together – that cannot be replicated. Listening to each other, however, is something that can be honed and worked on in ways that would be more difficult in person. I wrote a very simple piece of music called Online Turn-Taking and it was with this piece of music that we learnt the skills of turn-taking online, first with heavy operation of the mute button from practitioners and over time with participants learning when to listen, when to play, how the music could still be a group effort.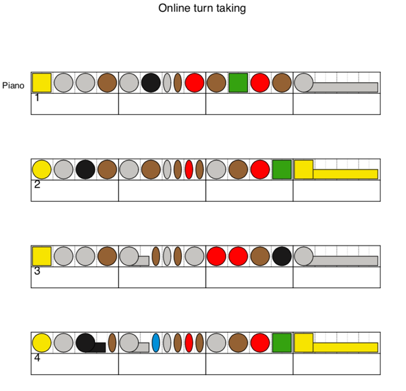 There was a really lovely discovery within our remote sessions that some people with very high anxiety found remote sessions much less anxiety inducing. This could be due to a number of reasons: no travel, total control over your own environment, no fear of external sounds/smells/visual distractions, the ability to switch us off at will…It meant that for some participants we have made more musical progress than we would have in person and while we will never exclusively deliver sessions online if we don't need to, a hybrid approach for some individuals is definitely something to consider.
We also put on a Zoom concert in the summer; this was livestreamed on Facebook and involved two separate breakout rooms as our 'green rooms' and a main stage using the broadcast message function to call people to the 'stage'. The livestream was streamed in the breakout rooms. This set-up was probably one of the most anxiety inducing concerts we'd ever put on for practitioners, however some young people who wouldn't dream of walking into a room with an audience nonchalantly performed exceptionally well!
We use Figurenotes creatively in sessions and this has been easy to transfer to doing online. We miss the huge coloured pieces of lycra that we would set up in a room as different lands; jumping quickly from the red hot lava – C, swimming in the blue sea – F, relaxing in the green grass – B etc. This has been replaced by the screenshare function with Figurenotes software and has resulted in me now having an encyclopaedic knowledge of different dinosaur species and some excellent original pieces of music.
This is the first group piece we wrote and recorded during lockdown, it was written with coloured chord flashcards to choose the chord pattern which formed the basis for the rest of the song. Our recording and editing skills have become much more refined over time but I remain very proud of this first one.
The transition to remote music sessions has been both very challenging and remarkably smooth. The fundamentals of what we do have not changed and I think that is one of the things that has helped practitioners and participants alike throughout this difficult time. The continuity of seeing each other and working together every week has certainly provided some much needed routine for me and I am so proud of the resilience of each and every one of our participants. As we continue on navigating our way through this difficult time we will have the safety of mutual musical goals and the community that we have developed through this.