That's a wrap on the latest Figurenotes training course Figurenotes: Developing Your Practice with a fabulous group of musicians and educators. We had three weekly sessions, each progressing to a different topic. Here's what we got up to.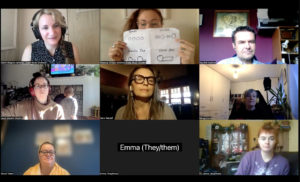 Week 1 – Figurenotes Rhythm
Our first week was spent learning a little about each other and going over the basics of Figurenotes. We like to start with rhythm, as it is SO intuitive and we know it can make a huge difference to the learners sense of pulse. We all played a high tech rhythm canon game in our Zoom room and then created our very own low-fi canons with enough fun extensions to last weeks. You can find version of the rhythm canon we used on our FAMHub.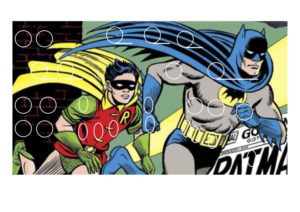 Week 2 – Figurenotes Composition
In our second session, we explored the many ways in which Figurnotes can be used to compose. Colour and shape is everywhere! This gives us lots of opportunities as educators to think creatively and find those magic keys that help engage learners and get the creative juices flowing. Our group had some great ideas, including Emma from Hear My Music who came up with this brilliant comic book themed session. POW!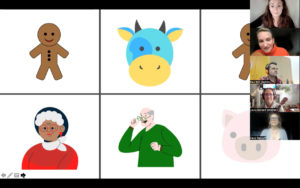 Week 3 – Groups and Differentiation
Our final week was all about working in groups and differentiation within them. There are so many great ways to get everyone playing together using Figurnotes, removing the initial barriers of notation that some find challenging. We used our creative minds to make a sound story based on the story of The Gingerbread Man. Each character had its own theme and everyone got right stuck in. It was a hoot. You can find our Gingerbread Man Sound Story on the FAMHub.
Here are some of the things our trainees had to say at the end of our training course: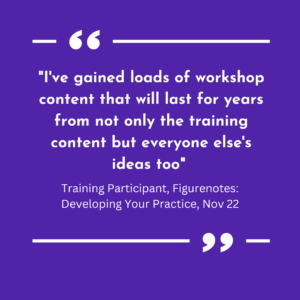 "Very helpful ideas and templates – and so great to see/hear how others are using the materials. Loved it all!"
"Very interesting, informative, and helpful!! thank you!"
"I've gained loads of workshop content that will last for years, from not only the training content but everyone else's ideas too."
Thanks to everyone that came along. Visit our training pages to find out more about our upcoming training offerings.