Ten years ago today, Drake Music Scotland unveiled the prototype Figurenotes software at their 'I Can Play Music' conference at Glasgow City Halls.  Drake Music Scotland look back at some of the highlights of this momentous day…
The I Can Play Music Conference on 26 November 2010 at Glasgow City Halls was the biggest and most ambitious event Drake Music Scotland had planned up to then – a full day's programme of keynote plenaries and specialist break out sessions catering for 200 delegates, presenters and performers from across the UK and beyond.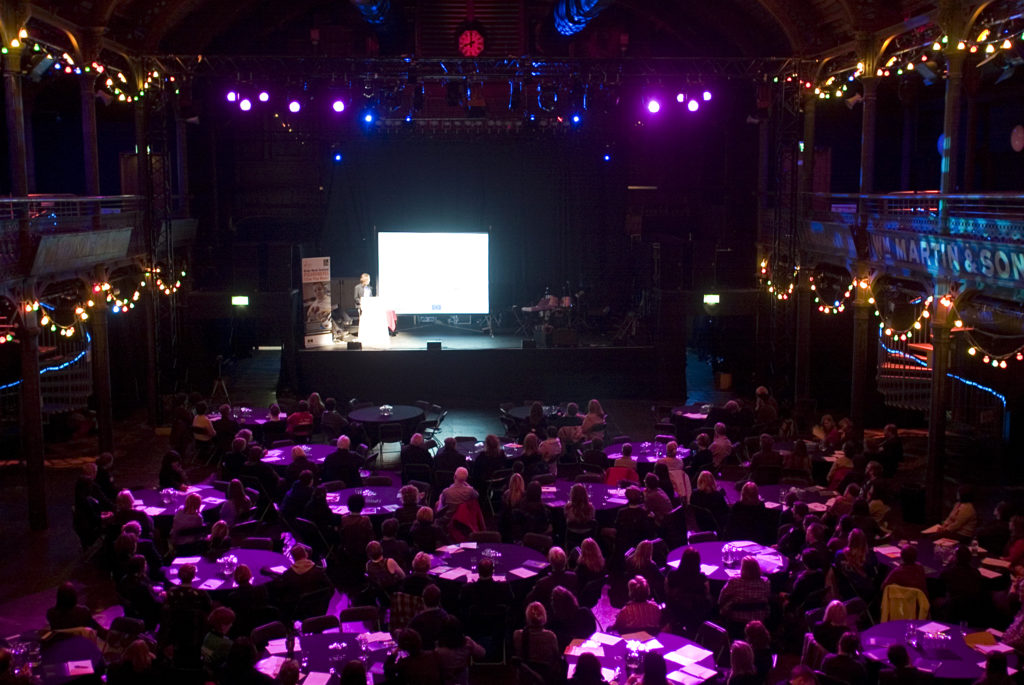 Our key presenters were the inventors of Figurenotes themselves, Markku Kaikkonen and Kaarlo Uusitalo, who had travelled direct from Resonaari music school in Helsinki to be our guests of honour. They set the tone for the day early with their opening presentation Making music should be a basic human right – Figurenotes is helping to place the joy and delight of making music in reach of all.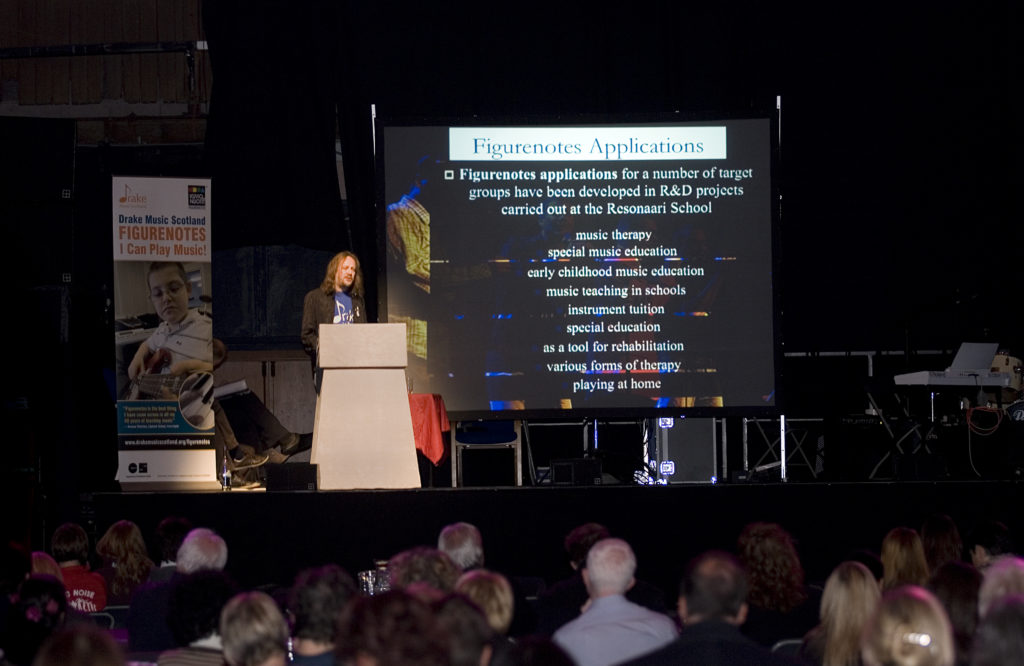 Markku and Kaarlo, ably assisted by Drake Music Scotland's Artistic Director Pete Sparkes, followed this with an audience participation session which got everyone on their feet and highlighted how physical, and above all fun, making music can be!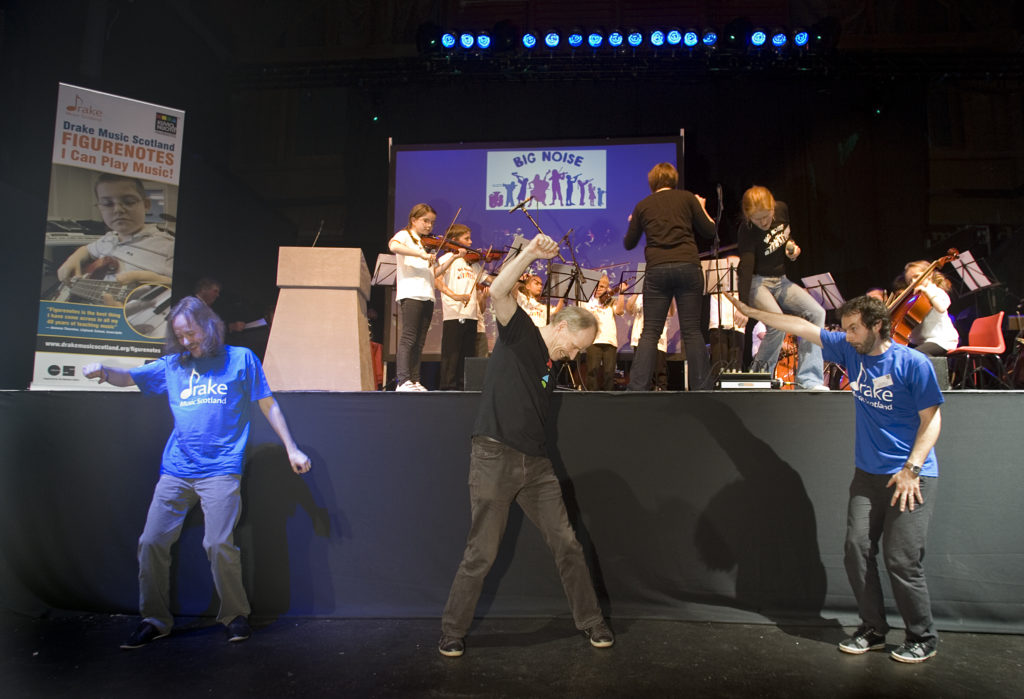 The accompanying music was provided by the children's orchestra from Sistema Scotland's Big Noise Project in Raploch, Stirling who used Figurenotes to learn to play their string instruments.  Sistema Scotland was one of our first project partners and their performance showcased how Figurenotes can support children with additional support needs to join their ensembles and ensure that no child is excluded.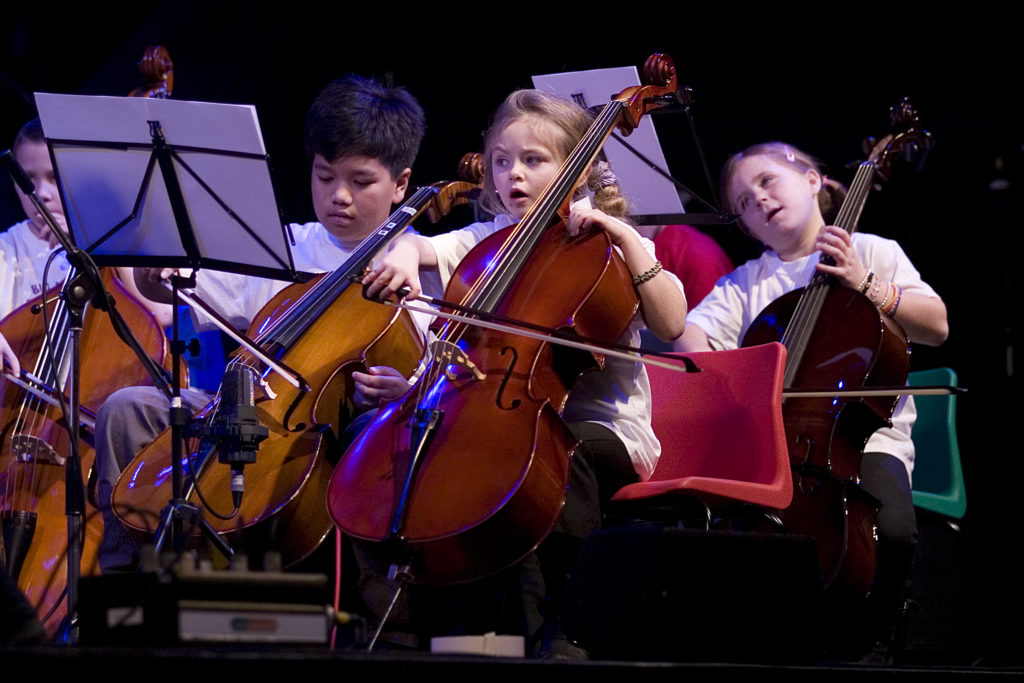 Our afternoon session led by Chief Executive Thursa Sanderson and Artistic Director Pete Sparkes unveiled the first software version of Figurenotes, which we created with support from Scottish Arts Council's (now Creative Scotland) Inspire Fund.  The beauty of a software version is that it allows teachers and learners easy access to preparing sheet music and individual instrument parts.  The digital version also means it can be shared instantly and with anyone, anywhere in the world. This has long been available for standard notation, but was revolutionary for an accessible notation.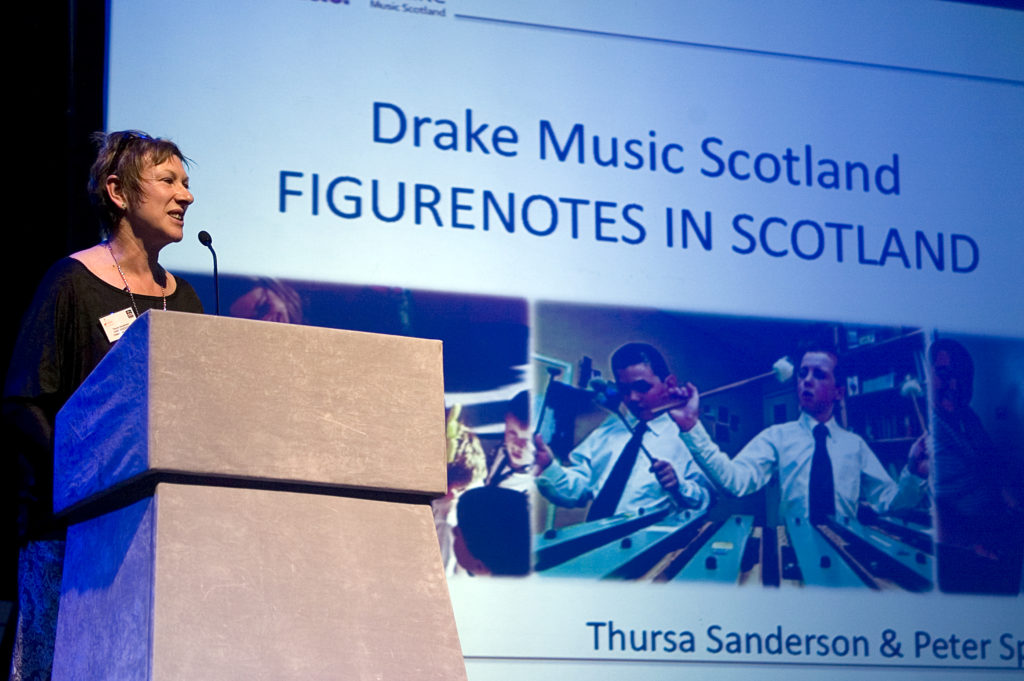 The various breakout sessions during the day gave us an opportunity to showcase the work of our wonderful Figurenotes ambassadors – teachers and academics who have been inspired by the system to explore its teaching potential and benefits to all types of learners. These included:
Inverclyde music teacher Annona Thornton who outlined the benefits of Figurenotes for special schools with her experience using it with pupils with additional support needs in Lillybank School.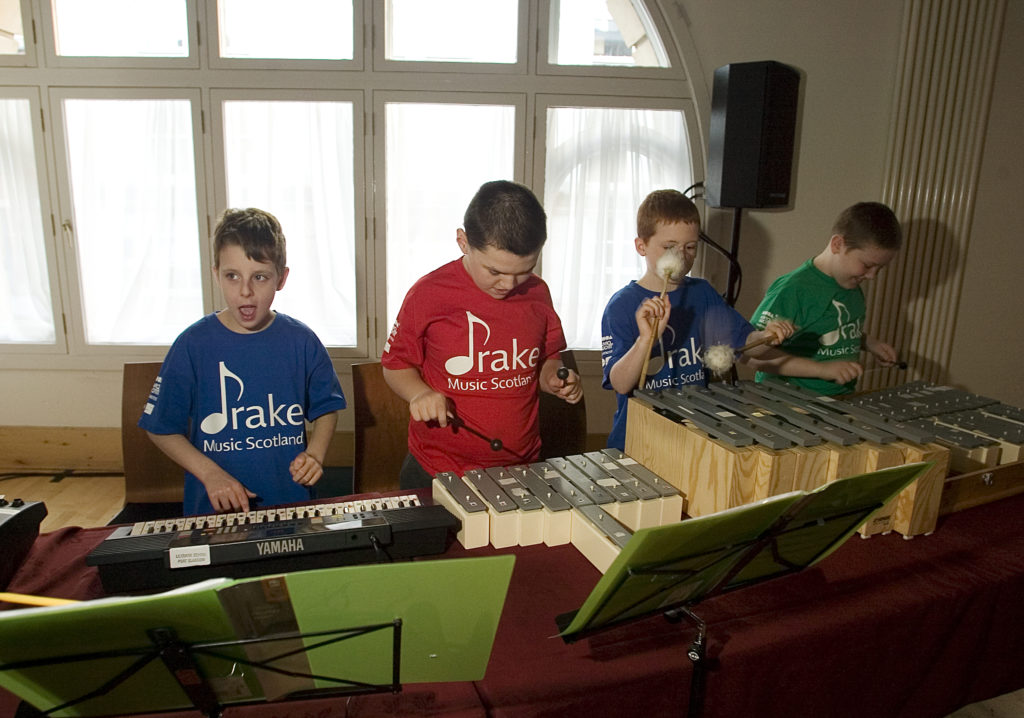 Jill Henderson who highlighted how and why Figurenotes is particularly successful with learners with autism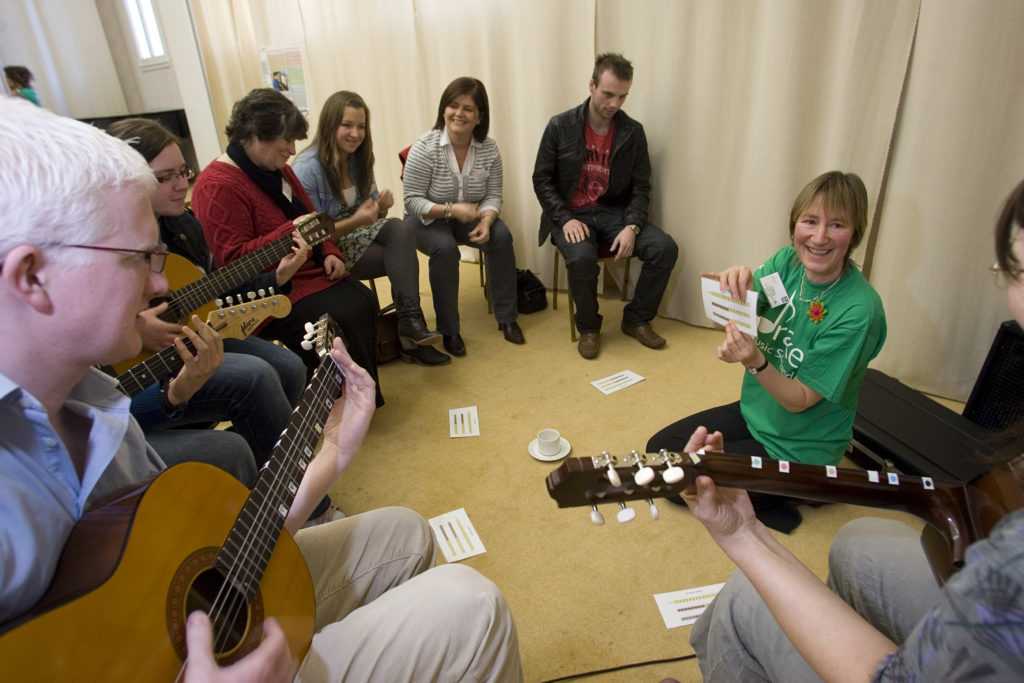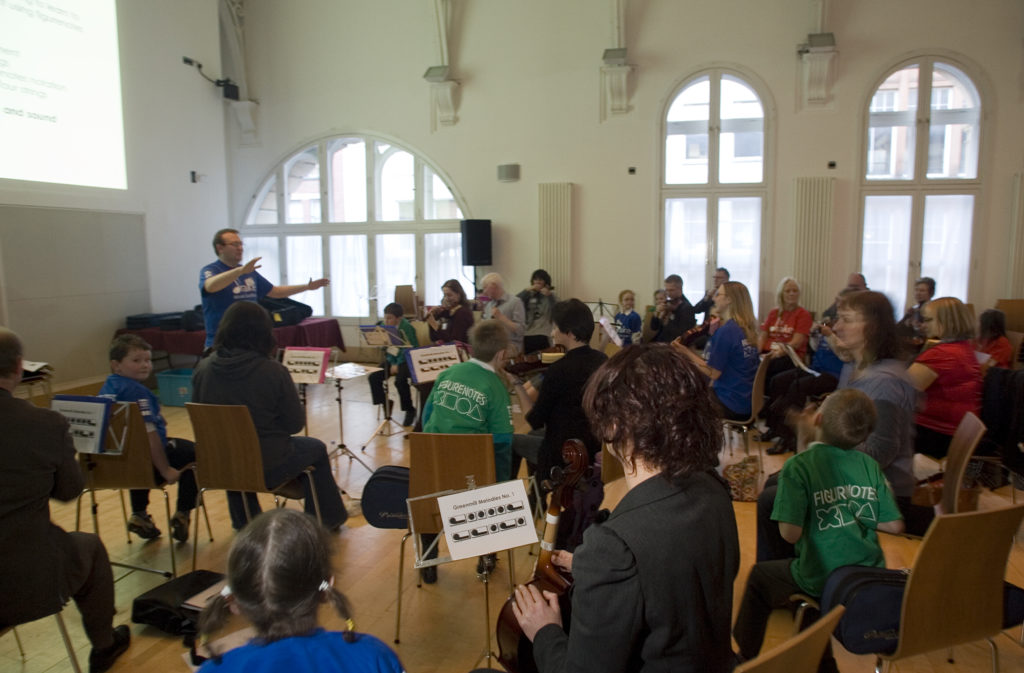 "Really inspiring – really interesting – really well organised – Bravo."

Anthony George, City of Edinburgh Council
"Excellent conference which has given me lots of inspirational ideas and enthusiasm to try out in my classroom."

Alison Strachan, Arbroath Academy
Ten years on, our work with Figurenotes has gone from strength to strength, reaching over 20 countries across the globe and supporting over 10,000 learners to play music for the first time.
And, although the Covid-19 pandemic scuppered our plans to hold a tenth anniversary conference this year, we are not resting on our laurels. Our latest Figurenotes software development is currently taking place after a delay earlier in the year due to the pandemic, and we are busy with plans for further development to all our Figurenotes resources, so that it remains a key inclusive tool for at least the next ten years and beyond.
Find out more about what Figurenotes can do for you