We wanted to start 2017 with some positivity, so when Bern MacLeod emailed to tell us how they've been using Figurenotes in a project in Uganda, we thought we should share it with you all.
How do I tell the story of Figurenotes in Uganda?
 In 2015, we conducted workshops where 22 orphan students from the countryside used the tools and jigs that we brought to Mbale in Uganda to make their own 3 stringed diatonic stick dulcimer. All of them successfully made a dulcimer. We then contacted a wonderful Ugandan musician who immediately took to using Figurenotes to teach the children.
 Over the past year a 30 piece orchestra has been formed at one primary school. All of the students have learned to read Figurenotes and all are able to play the dulcimer. Some of the children play drums, shakers and thumb pianos, as well as Ugandan harps and violins. You can see some of the progress in the photos and videos below.
Figurenotes was very useful since many of the students are not fluent in English   and there are many local dialects. In fact, teaching in Figurenotes improved their English. The teacher, Mr Ogarima Johnson, is writing a book on his experiences with Figurenotes.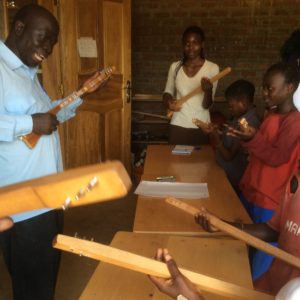 We have refined the process of making a dulcimer into a kit, which requires the students to do a minimum of woodwork, while retaining their pride in constructing their own instruments. In a small community in British Columbia we had students construct, finish and tune their dulcimers and learn 'Twinkle, Twinkle, Little Star' and 'Row, Row Row, your Boat' over two full days. Because the dulcimer is diatonic in G and open tuned, it is difficult to play a clashing note. As the students progress, we can add frets to permit a number of keys to used.  
 The joy and pride of the students is a wonderful experience. There is a better description of this in loveistheanswer.ca under the music project education heading. I would be very interested in hearing from others teaching students of other cultures and languages as well as anyone who wants to have children make their own instruments.
Bern MacLeod and Judy Storr
Vancouver BC
Canada
We hope Bern's story has inspired you to start 2017 with positivity and enthusiasm. Happy New Year!