Our staff band got a new member last week when MP Tommy Sheppard joined us to workshop some new arrangements for a youth music session we have planned. As the MP representing our local area, we are always keen to connect and share the powerful work that Drake Music Scotland does, as well as the challenges we face.
He was enthusiastic, but a little apprehensive that he couldn't remember his guitar chords stored at the very back of his childhood mind. Fear not! We designed this band session for people who have never picked up an instrument before.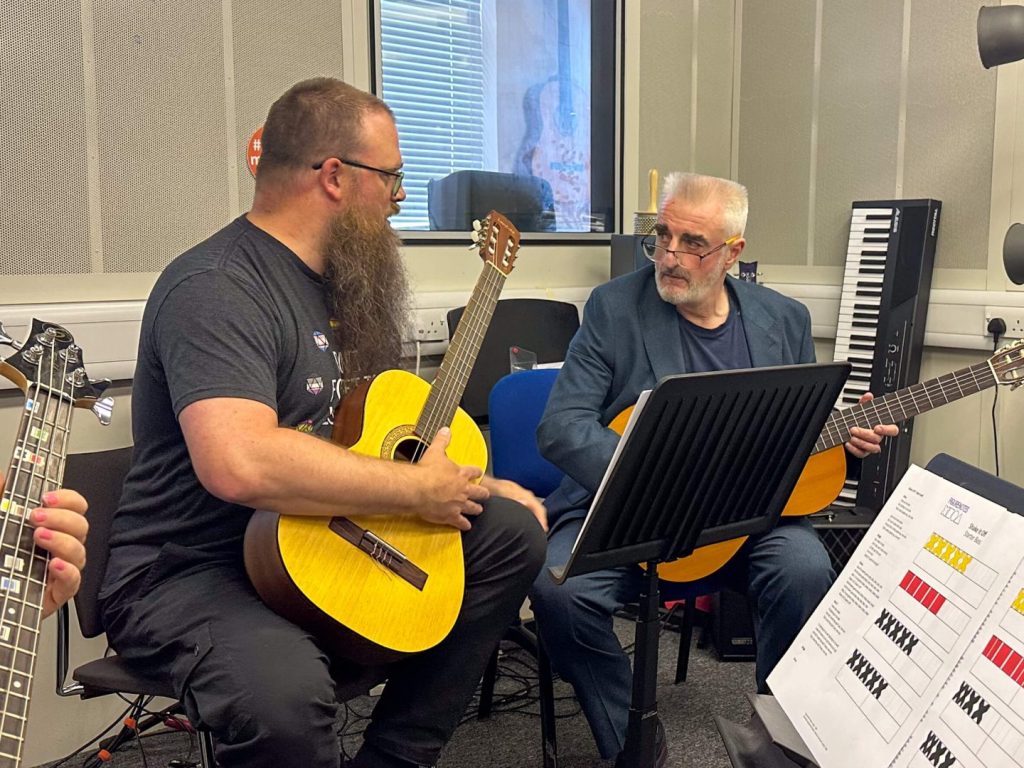 We set him up on a Figurenotes guitar, which is much more accessible. 4 strings are tuned A E A E, resulting in an open tuning. You then bar the 4 strings following Figurenotes stickers for guidance. This meant Tommy could dive straight in and play Shotgun by George Ezra with us. We had it together in no time at all and were sounding great.
To keep everyone on their toes, we all swapped instruments. We were playing everything from iPads using Garageband and Thumbjam, to the classics of keyboards, bass, guitars, percussion, and vocals – even chimes. I introduced our visitor to our little shorty bass and we got a bit more funky in our rhythms. We managed to rattle off Taylor Swift's Shake it off and it was sounding great. I'm less sure about our rapping skills in the middle 8, but the band did brilliantly.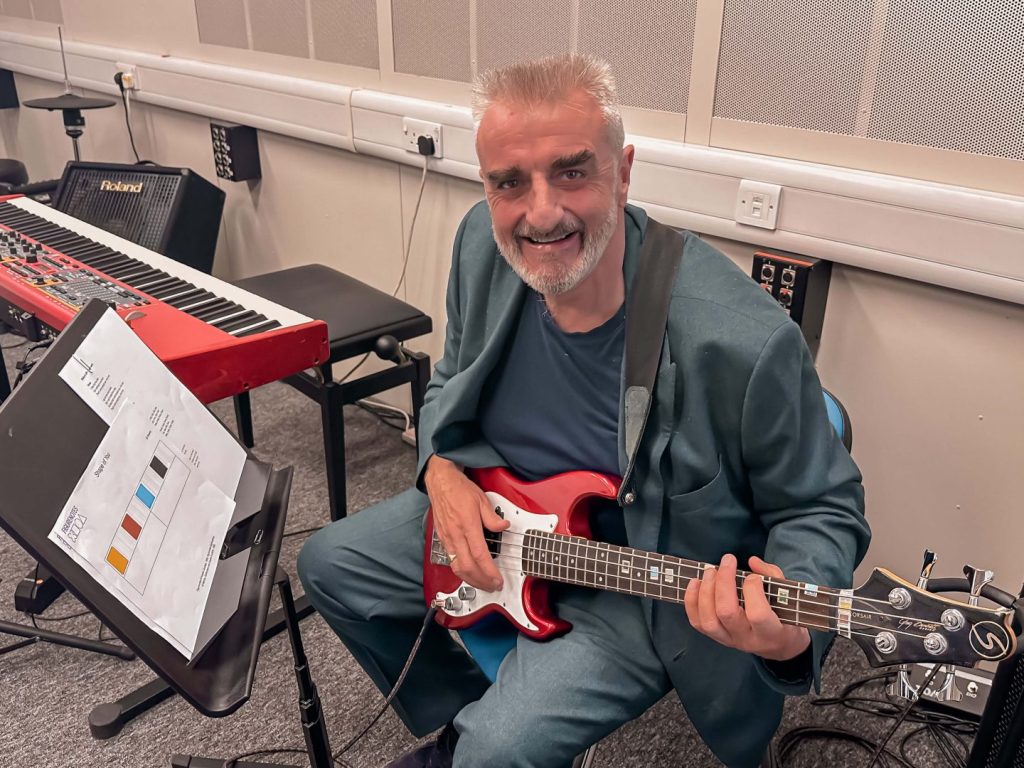 "It was great to revisit the Drake Music Scotland team at their base in Craigmillar and hear about their work with disabled artists and musicians, which stretches from there to all parts of the country. Not to mention my guitar success using Figurenotes, the colour-coded notation system."

Tommy Sheppard MP – Member of Parliament for Edinburgh East
The band arrangements got all the testing we needed and are ready for a band workshop for young people in our community. We will put these tunes and others up on the FAMHub shortly, so keep an eye out.
Thank you, Tommy Sheppard, for getting stuck in with music-making. We appreciate you visiting and discussing the many highs, and the various challenges, Drake Music Scotland has faced in recent years. It is also nice to have yet more proof of the 5-minute Figurenotes band in action!