The Scottish musicians and teachers among you will likely know the Youth Music Initiative well. This music education initiative, funded by the Scottish Government through Creative Scotland, has made so many projects possible over the last 20 years. It is a vital source of funding for the work that so many of us deliver. Drake Music Scotland, the charity behind Figurenotes.org, delivers an extensive schools programme supported in part by YMI funding.
To celebrate 20 years of this programme Creative Scotland hosted a special industry event on 2nd March, bringing the youth music sector together. The theme for the event was #YMusicMatters – can you see what they did there?
Come and Try
Figurenotes was invited to exhibit at the event as part of 'Come and Try', alongside other wonderful organisations doing brilliant work across Scotland. Soundplay Projects had their projections and fun installations bringing the room to life. The Sound Lab were recording in the corner, treating us all to some wonderful sounds. North Edinburgh Arts were showcasing some fantastic tracks made within their workshops. We were there to showcase Figurenotes with a range of instruments, from keyboards to adapted guitars, notation software to Thumbjam on the iPad. It was a buzzing room and great fun to be a part of.
"I'm gobsmacked to be honest.

I would have been SUCH a pro if I had this when I was trying to learn" 

Excited event attendee on trying Figurenotes notation to play chimes
It was lovely to see some familiar faces and make new connections. We convinced many a non-musician to have a go on the instruments using Figurenotes notation, with very minimal explanation. Someone who had never touched an instrument before played Jingle Bells on the first try. A heavy-metal drummer who always struggled with notation played a cracking bit of Beethoven.  
The common refrain we hear at events is 'oh no, I'm not musical'. The shock and joy they experience when they realise they can do it without much help at all is so lovely to see. It just shows the immediacy possible in learning music when you break down some of the barriers. Everyone should be able to experience the thrill of making music, the confidence that stems from that, and the desire to try again and again. This form of expression should be available to all. That is #YMusicMatters to us.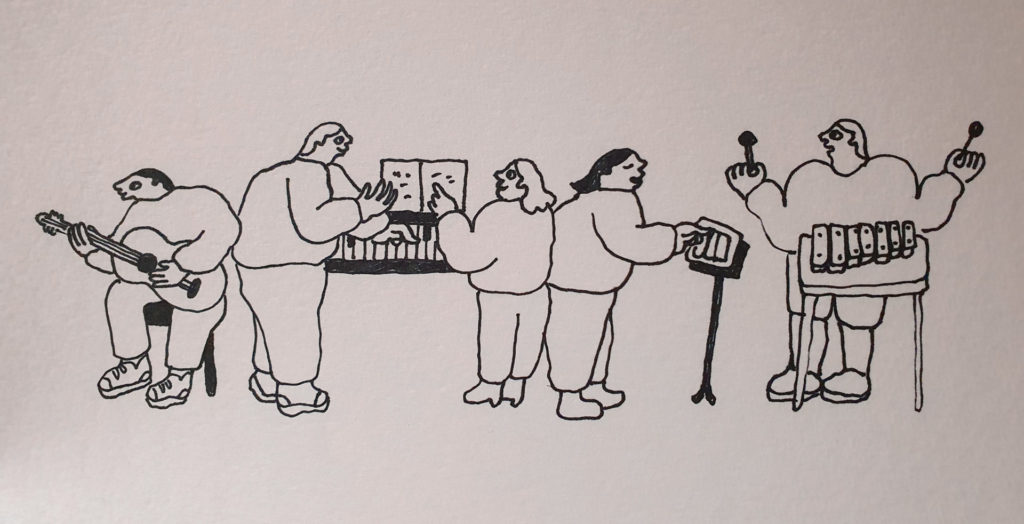 Thank you to artist Katie Forbes who was live-drawing the event. She gifted us a wonderful piece of art as a thank you for giving her the opportunity to play music with us.
Thank you to Creative Scotland, all the YMI staff, and everyone at the event for an interesting, inspiring day.
Find us on social media to let us know #YMusicMatters to you.