What better way to spend the last few weeks of term than get a whole class band going!
In the run up to the winter holidays, Caitlin and Rebecca from the Figurenotes team spent three weeks at Prestonfield Primary School with the Primary 4 class. Focusing on rhythm and composition, we played and created music as a whole class band using Figurenotes. We were lucky enough to have great connections with the school beforehand, so we could ask for song suggestions from the class prior to the project starting. This created a sense of ownership for the pupils from the off.
Prestonfield Primary is a local school to Figurenotes HQ, in the heart of Craigmillar, Edinburgh. The building is as beautiful as the ethos there.
"Vision: Prestonfield Primary School is an inclusive community of committed learners where we all belong.
Values: We are Kind, We are Responsible, We are Ambitious
Aims: By building friendship, communication and resilience we offer a nurturing environment where our community plays, learns and grows together."
Here's a run down of what we got up to:
Rhythm Week
Our first session was an introduction to Figurenotes rhythm. We used a tried and tested rhythm canon with body percussion to kick us off. Anyone who has done some training with us will know the rhythm canon well. It makes a great wam up! You can find it on our Figurenotes Music Hub.
We tweaked the rhythm canon to work with one of the chosen songs – Shotgun by George Ezra. This meant we could carry the rhythm work straight through the lesson.
By the end of the canon, the whole class had the colours and the rhythms down. We could then introduce a mixture of chime bars, keyboards, hand percussion, and digital instruments on tablets to play our song.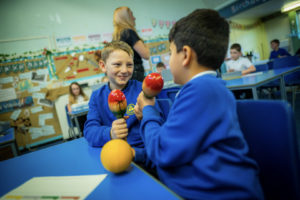 Sustain Week
Next session, we started by revisiting the rhythm canon. We tweaked the canon yet again to marry the song for this week, focusing on sustaining notes for two beats or more. Figurenotes notation is great for this, because the note is as long as it looks. The literal nature of the rhythmic notation makes it much easier to understand – the longer notes are longer on the page.
Once we had the canon down, we jumped into playing As it Was by Harry Styles. There was so much fun to be had by swapping instruments around, so everyone could have a go at each one. The class were amazing! They had a solid sense of rhythm, pulse, and bags of energy.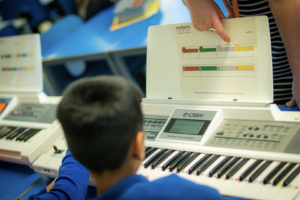 Composition Week
For our last session we wanted to create a huge piece together that was all ours. We showed some pieces of art that contained Figurenotes colours. You can easily find images to use in various online galleries available for free.
Once we had our images up, we first asked for volunteers to be the 'Director'. Each volunteer used the image as a score, pointing at a colour and expressing how they would like it to be played. For example, going fast or slow. This was a wonderful way to allow ownership over the piece.
Finally, we all took the lead from Caitlin. She began with a picture of a bird projected in the classroom. She used her physicality to show the bird waking up, taking flight, finding berries, landing, and going to sleep.
The class was so responsive. The sound was enormous and vibrant, followed the storyline, and everyone worked so well together.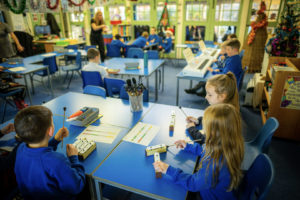 We had such a great time. The class were lovely and even drew us some pictures to say thank you.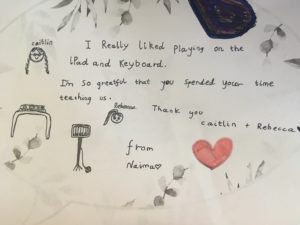 If you would like a short Figurenotes project for your class, get in touch at Figurenotes@DrakeMusicScotland.org